R.D. Tyre Service
Glasgow's Premier Tyre Fitting and Mobile Tyre Fitting Service 
Established in 1987, we have been providing competitive tyre services in the north of Glasgow for over 20 years.
Located on Pinkston Road in the Springburn area of Glasgow, we are only a 10 minute drive from the centre of town, with easy access from the M8 motorway.
We are a friendly family run business, who take the time to listen to your requirements and deal with your needs in an efficient manner. We offer a full range of tyre services from puncture repairs to providing new tyres, from all the major brands such as, Pirelli, Michelin, Bridgestone, Goodyear, etc. as well as our budget ranges of tyres. Whatever size or make of tyre you require we will be happy to help. If we don't have what you need in stock, we will usually be able to obtain it within 24 hours. We are also affiliated with Black Circles and My Tyres.
All our new tyre prices include balancing and fitting, so there are no hidden extras. The price you are quoted is for a complete job.
We have a lot of custom from members of many car enthusiast clubs, so you can have no worries about us taking good care of expensive alloy wheels.
As well as tyre fitting and repair, we also offer 4-wheel laser alignment. Our specialist laser equipment will determine and evaluate any tracking problems for our skilled personnel to correct.
Should you wish a tea or coffee or a snack while we carry out work to your vehicle, there is a café located above our premises where you can sit and view the progress of our work.
So if you are looking for tyres or a puncture repair to a full tracking service at competitive prices why not pay us a visit.
Services We Offer
These are just some of the things we offer. As we offer comprehensive vehicle care, it's impossible to list them all.
Tyres for all vehicle types.
Puncture Repairs.
Laser Wheel Alignment
4-Wheel Alignment.
Tyre and Wheel Balancing.
Mobile Tyre Fitting Services.
Years of specialist knowledge
With RD Tyres you can be sure that your vehicle will receive only the best care possible. Our team of fully qualified, insured, specialists take into account all options and possibilities when looking after your vehicle. We won't let you spend any of your money without being absolutely certain of your problems – and we'll provide you with a detailed summary of any works carried out.
Best Prices
If you're looking for great quality tyre fitment, you've come to the right place. We offer tyres – all brands – at reasonable prices inclusive of fitting.
Always go here for tyres – will repair if possible or give you choice of new tyres if required. Always a fair price.
Excellent service and was very fast. Guy with the glasses and short hair was very polite and even helped me with a air cap for my other wheel free-of-charge. Price was a little more expensive than my last puncture repair but I would rate it 8/10. I would return again.
Top service and better than the biggest brands for prices.
Very friendly and helpful. Super careful with my alloys when fitting new tyres.
Very highly recommended.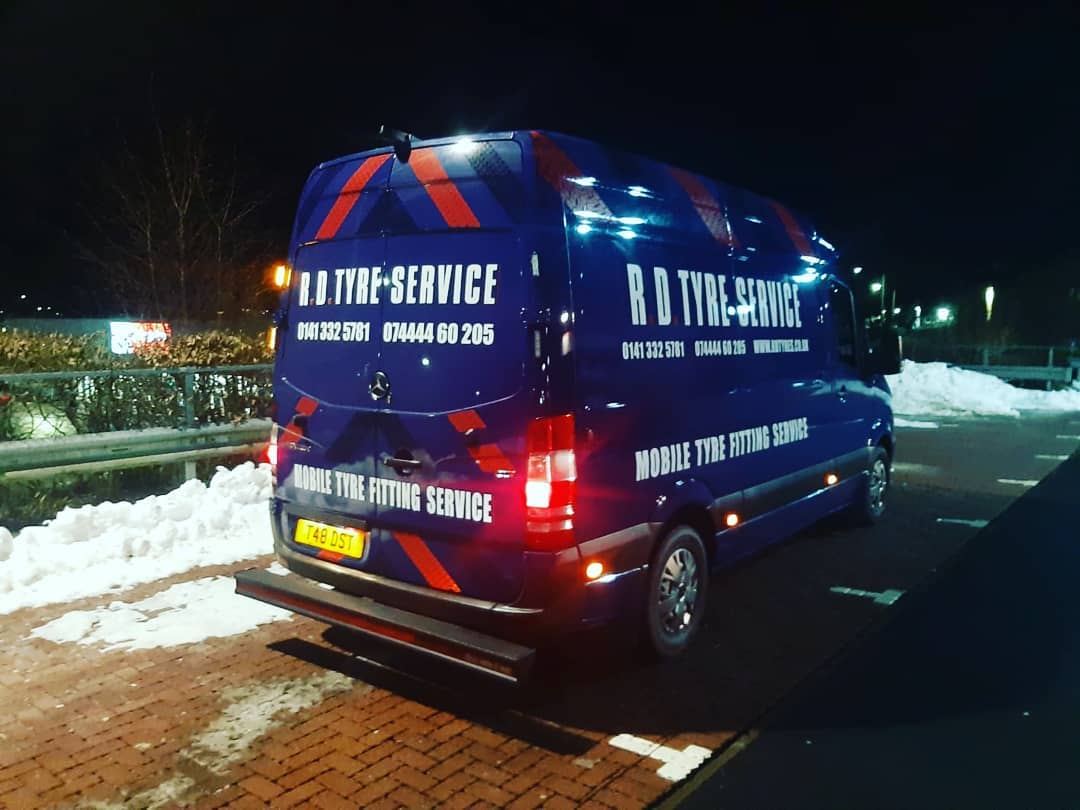 Tyres for all vehicles. All Brands. All Seasons. Trust R.D. Tyre Service. Mobile Fitment Available.
Visit us in Glasgow
460 Pinkston Road, Springburn, Glasgow